La Roux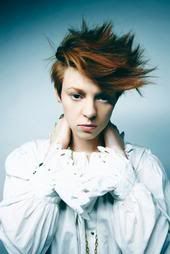 Yet another band which may seem like it is only one person when it is in fact, it is really a duo.
La Roux is easily classified under the British, electropop genres. Though La Roux takes heavy influence from 80's synth pop bands such as The Human League, Heaven 17, Blancmange,and Yazoo.
Elly Jackson (vocals/synths) grew up in London and attended, as she refers to it as, a
"rightwing, really religious school". Whilst attending this school though, she was bullied for having a very androgynous style. At first, Jackson was highly interested in Folk music. This all changed when she became a teenager and became involved with the rave scene. Jackson cites style, attitude,and musical influences such as: Molly Ringwald, David Bowie, Annie Lennox, Prince, and Elton Welsby. She is also very interested in fashion, as she designs clothing with a friend. She also says that she is "unhappy" with the current state of normality in fashion.
The other half of this band, Ben Langmaid is a British producer and composer. Who saw La Roux as a way to allow his passion for 80s synth-electro-pop to shine. He prefers to stay in the background.
La Roux has been an opening act for Lily Allen's United Kingdom tour in March of 2009. They are also scheduled to be headlining the 2009 Samsung NME Radar Tour with bands such as: Magistrates, Heartbreak, and The Chapman Family.
(information from http://en.wikipedia.org/wiki/La_Roux)
If you love British pop, or 80s electro, or some weird combo of the two, chances are you will like La Roux. La Roux is, in my opinion, a highly addictive combination of electro 80s dance beats and unique/emotional vocals. La Roux has become one of my new favorite musical acts of this year, and i would not be surprised if they went far.
People who enjoy.
Would definitely enjoy La Roux, at least give 'em a shot!
La Roux: In For The Kill
Songs to check out.
-I
n For The Kill (Skream's Let's Get Ravey Remix)